We celebrate the birth of Jesus every Christmas. Being happy, making presents for each other and spend time with our precious ones. The subject of Jesus seems more present than ever before.
What would happen, if he was born today?
Would his parents make it flee from the cruel destiny which Herodes made?
We shouldn't just ask each other if the states would let them in, but if every one of us, no matter whether religious or not, would open our doors for them.
Are we ready to let strangers, which fled from the cruelty of the world, into our houses?
And give a small human being the chance to save the world again?
---
KAROLINA CHYZEWSKA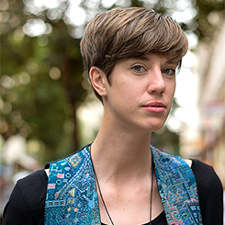 On New Year's Day, 1986, Karolina Chyzewska decided it was just the right time to face the world. Born and raised in beautiful Göttingen, she felt very much at ease with her Polish family around her. After school she went to study at the Kunsthochschule Kassel where she specialised in comic and animation.
In 2012, she spent a term at the Kraków Academy of Fine Arts, Poland. After her return she participated in several exhibitions and smaller publications with her art collective Die Goldene Discofaust and also took her arts degree.
Having graduated, she decided to take the next important step in her artistic life and moved to Berlin. Shortly afterwards, she released her debut Fast wie zu Hause in German, Polish, and French and took it on a tour through Europe. In early 2016, her short comic Trick was presented at the Fumetto Comix Festival. In the short intervals between festivals she published her first magazine (Soft Jungle) and took part in exhibitions in Berlin (48h Neukölln) and Kiel (Pop Shop) with her collective.
Karolina Chyzewska's works have already been published in the magazines Strapazin and Triebwerkand won her the Max und Moritz Award for the best student comic release. For her comic Come with meshe received an Honorable Mention at the Comics Workbook Composition Competition of 2014.
Karolina Chyzewska lives and works as a freelance comic artist and cartoonist in Berlin.
Tegningen publiseres i samarbeid med Goethe-Institut Norwegen.